Summer is in full swing in the northern hemisphere, calling for a revamp in reading nooks. With the high temperatures, snuggling up with a blanket or a cup of tea just seems out of the question. So I went on a quest to find a nicer way to read during the oppressively warm days.
During the summer, I find that I am not much of a night-time reader. Possibly the result of years of summer holidays, but night time is for dinners and spending time with friends and family. Daytime reading is an excellent excuse to get out of the house, scout out a lovely shaded area and just read, occasionally taking the time to people watch.
Things I enjoy having with me while reading in the summer:
Water: in a glass or in a bottle
A snack in the form of cherry or grape tomatoes
A small piece of paper to fidget with, and doubles as a bookmark
Not with me per se, but I switch up the pjs for shorts and a tank top: must keep cool for the hot writing in all those books!
Being able to spend time at my parents' place during the summer means I can sit in the garden, leaning against a railing or sitting on the steps and migrate as the shade moves about the house. Birds swoop by and I can hear some bees, adding to the serenity of daytime summer reading.
Summer reading also provides a good way to spend time with friends. This is by no means for friends with whom you haven't built that rapport, but the ones who are fine with silence, fine with doing things independently together.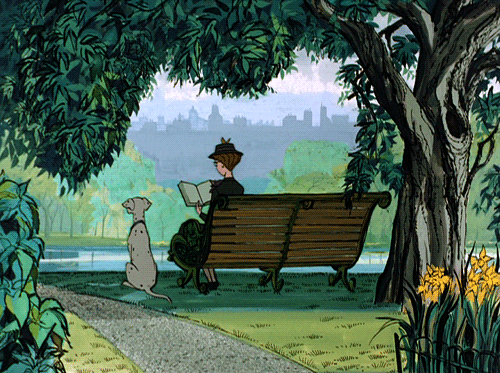 I get the majority of the year's reading in during the summer, so the longer days and the beautiful surroundings just make it that much more conducive.
How do your reading habits change based on the weather?