Turns out the process of revamping your wardrobe and curating a personal clothing style takes a lot of time and effort. Who knew! I've been working on discovering the shapes and cuts that I like, as well as the types of materials and accessories that I enjoy. Thankfully, one of my best friends is down for thrifting and going to second-hand stores to try out various styles. Curious to hear some of the lessons I've learned? Wait no more!
It's a longer post, so maybe turn this on while reading!
I'm sticking with the one fitted piece with a contrasting looser piece. Loved that aspect of the things I tried on. I don't think I'll be jumping on the flared jeans wagon any time soon, as I love my skinny and straight legged jeans a lot!
Wrap tops were great as I could use them to accentuate my waist and having space around and under my arms was a blessing. I'm in a field of study that requires a lot of freedom in movement to be comfortable, and I think this is a good way to cut the silhouette I want.
Finding a neckline that I liked was difficult. Crew necks and V-necks make my head look tiny as my torso is a little more on the gifted side. Boat necks on the other hand… They may be my new favourite cut.
I can't abide any clothing that is too short, so that rules out crop tops, miniskirts, and short shorts for me. But now I know! Well-fitted is the name of the game, and I prefer a more "modest" cut with playful accents: stripes, bows, interesting patterns or embroidery-work.
What surprised me was how much I loved palazzo pants. They were the comfiest, swishiest things ever and I even got to try on a linen pair- perfect for summer days. However, I feel like maybe I'll wait until I have the space to be a little more "out there" in my wardrobe choice.
Soft materials were the name of the game and I really didn't like wearing materials that were not breathable. Polyester was meh, which is unfortunate as it's both cheaper and the majority of clothes involve polyester, as well as velvet-style materials. Basically, these all felt like they were trapping in sweat, which I am 150% not down for.
Next steps are now to put together a mood board with all this new information and try to see if there is an overall way to describe the new look. I think I will still continue to try on more types of clothing and then modify the mood board, as well. Wish me luck as I continue on this journey!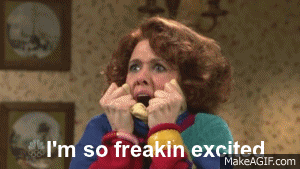 What pieces do you find suit you or make you the happiest?
Cite your ish:
– Book cover
– Shirt
– Pants
– GIF
– GIF