Thanks to my local library, I finally have my hands on Anuschka Rees' book The Curated Closet. I'd seen posts on her blog and the whole notion of actively working toward creating a style/ look was interesting to me. However, I'm more of a hard copy kind of gal rather than online formats so I had to wait for 33 other people to read the book and return it. FINALLY, MY TIME HAS COME.
I have yet to get through the rest of the book, and have made it as far as Chapter 6. This means I've been analyzing my outfits for the past couple of weeks, and developing an inspiration board on Pinterest.
For many years, I've looked enviously at the style my friends have carved out for themselves but never knew how to develop my own style. There was one point where I was in Europe for some time and being surrounded by all these unique people, I started to develop my own style from fast fashion pieces. They held up pretty well afterwards, but once those clothes fell to pieces I resorted back to a piece-meal approach to buying clothes. I also feel like my clothing doesn't reflect where I am or will be going in my life; it feels rather juvenile and uncoordinated.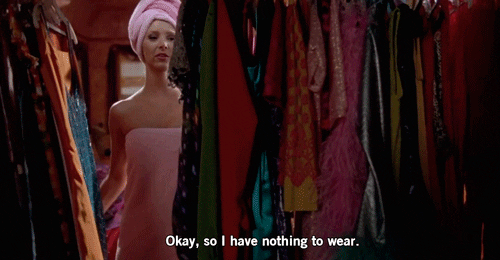 Anuschka states that you can develop your own style but it takes work (gasp! nooooo!). However, style is unique and following trends isn't the only way to develop a look. Learning what cuts and fabrics you're attracted to is a good way to help yourself, and that slight variations in incorporating these can help: like furry pink but don't want a whole jacket? Maybe consider a tassle or incorporating softer fabrics into your look!
I've learned that I love bold and floral prints, as well as a more comfortable/ casual look. Shoes are fantastic (of course) and I've noticed that I tend toward one more fitted piece with a looser/ more flowy piece of clothing. I want my clothing to fit better and also help me feel more confident, Wonder Woman-style!
So far this book is great! There are no suggestions as to "body types" or "vibes" but rather emphasizes that you invest in pieces that you like and that make you feel good about your style. Lessons and advice I can live with!
My next step is to cull through my Pinterest board and also identify some patterns within my choices. I'll take these patterns and then go on a wee bit of a spree trying things on and seeing how they change once I need to apply them to real life. Stay tuned for further updates!
Have you read this book and/ or attempted a style overhaul? What pieces or looks are key for your look? Who are your style inspirations?
Cite your ish:
– Book cover
– GIF