As with music, I assume there is a pivotal span of time that shapes your taste in books. The books that resonated with me the most were read between the ages of 10-18 (give or take). This is not to say that 20-year-old me didn't find a book that made a lasting impression, but you get the idea.
Would you like to know more about some of these books? Click onwards, dearest bookworms!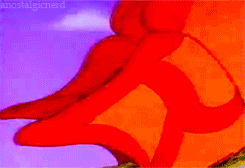 *as with all the posts: spoilers may be ahead!*
1. The Harry Potter series by J. K. Rowling
I don't think any millennial could compile a 'Childhood's Greatest Book Hits' list without including this series on there. In my mind, it is one of the best examples of an immersive and beautiful world.
Magic creates the possibility of another world to explore, and another way in which things can be experienced and accomplished. Little Me grew up alongside Harry, Ron, and Hermione, waiting for the day that my acceptance letter would be delivered (Still waiting… sigh). The deaths in the various novels felt like close friends had indeed passed away, and every triumph allowed me to breathe a sigh of relief.
Now that I'm older, I still reread the books (scattered between my apartment and my parents' house). I fully embrace my Ravenclaw manner, and understand now that I really would have hated being in Gryffindor. Also, so many issues that arose throughout the novels could have been averted with a frank and honest discussion between people (Seriously, Dumbledore). It was probably for the best that I first read these books when I was younger!

2. The Lion, The Witch, and The Wardrobe by C. S. Lewis
I'm really loving the books written by British authors with initials in their names, apparently.
Same deal: magic, anthropomorphised animals, four children with destinies far greater than anything they could have imagined! I love, love, love this book along with some of the subsequent novels. The final two books in the Narnia series became far too obvious in their narrative on Christianity, requiring me to force myself through them.
The realism of the fight scenes and the honesty of the loss and injury that happen during war was very refreshing in that it didn't soften the blow for children. Maybe it had to do with the realities of the time during which the book was set, and translating them in a way for children.
3. The Witches by Roald Dahl
If you've not read this, pick up a copy ASAP! It's a heartwarming story of a grandmother and a young boy who have the misfortune of encountering a convention of witches (this is not like a murder of crows. Think scientific conference, instead).
Our main character is turned into a rat, and we see the whole world from his point of view; the possibilities created by this new size ratio make things seem endless! For a child, it makes you look at your everyday world as a gigantic playground. Crawl along the back of the sofa! Scramble around your back garden!
It's difficult to pick any Roald Dahl favourite, but this one is 100% in the top 3.
As always, these three books have movie versions but please read the books first. The magic and language is just so worth it ALL.
What books shaped your childhood? Should I make this a series? Like and comment if you agree, and even if you don't agree, I'll still make this a series.
Cite your Ish:
– Reading Rainbow
– The Lion, The Witch, and the Wardrobe
– The Witches